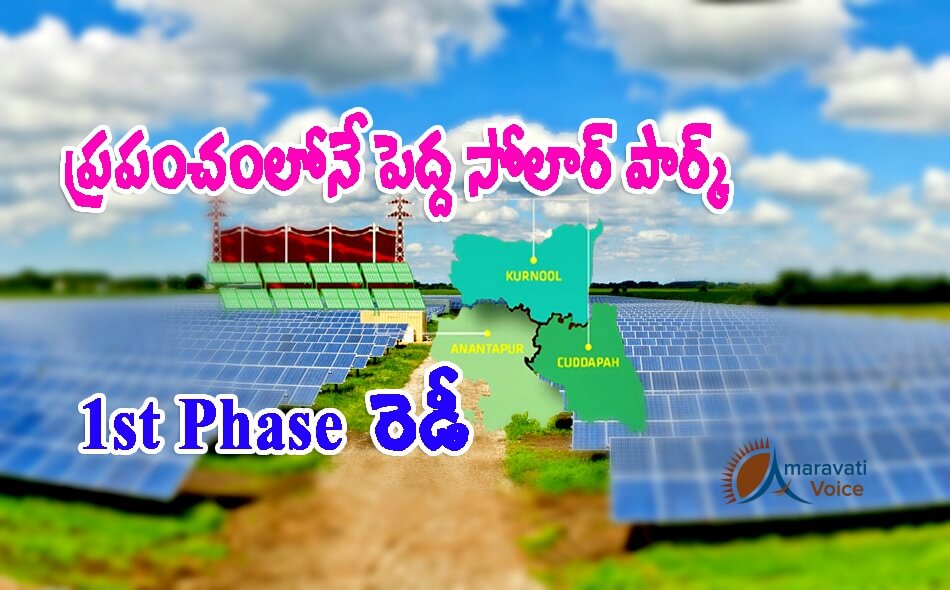 The world's biggest solar power generation plant Ultra Mega Solar Park at N.P. Kunta area of Anantapur and Kadapa districts would formally begin generating 200 MW on April 30. The proposed park with the capacity of 1,500 MW on a single piece of land is the biggest solar power generation unit in the world. NTPC is establishing 1,000 MW solar power project and 250 MW will be established in the 1st phase and the balance 750 MW in the second phase.
The megaproject was proposed in an area of 11,528 acres including 7,900 acres in Nambula Pula Kunta (NP. Kunta) mandal in Anantapur district and also 3,603 acres from Galiveedu mandal in Kadapa district. The AP Transco and NEDCAP acquired nearly 7,000 acres in NP Kunta mandal last year. At Galiveedu site, nearly 70% of government land 1738.4 acres was already handed over to APSPCL. PGCIL (Power Grid Corporation of India Ltd.) established 400/220 kV Grid Sub-station at NP Kunta for external evacuation. Further, AP Transco has also set up five kms long 220 KV line and pooling substations.
AP Transco has been executing work on behalf of APSPCL. The Ultra Solar Park would generate another 50 MW by August. In the second phase, 750 MWs of solar power is scheduled to be commissioned by 2017 April. The successful taping of solar energy would help to provide power to agriculture during the daytime. The Transco authorities said the mega project would also spend about Rs.15 crore for a period of five years as corporate social responsibility
AP government energy secretary Mr Ajay Jain said that the biggest solar power park in the world would be established in AP After releasing the government's vision document om power supply, he said that 4,000 mega watt solar power would be generated from plants being setup in Anantapur, Kadapa and Kurnool.
{youtube}lKVDH_Weqqo|500|250|1{/youtube}